Eid-Ul-Adha Friday 1st September 2017
August 28, 2017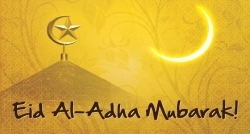 We are delighted to announce that with the arrival of the Zulhijjah month, the first day of Eid al-Adha will be celebrated on Friday 1st of September 2017 with Eid Prayer being offered at 10.00am in the Al-Mustafa Islamic Centre Ireland.
The Eid Khutbah will be delivered by Shaykh Dr. Umar Al-Qadri. The prayer shall be lead by Allama Muhammad Shahzad.
There will be some light refreshments provided afterwards.
All are welcome !
Directions to the Islamic Centre in Blanchardstown :
https://www.google.ie/maps/place/Al-Mustafa+Islamic+Centre+Ireland/@53.38352,-6.400067,17z/data=!4m20!1m14!4m13!1m5!1m1!1s0x0:0xfc4f96c86d3d46be!2m2!1d-6.397873!2d53.38352!1m6!1m2!1s0x48676d442cc85431:0xfc4f96c86d3d46be!2sAl-Mustafa+Islamic+Centre+Ireland,+31+Coolmine+Industrial+Estate+Blanchardstown,+Dublin+15,+Dublin!2m2!1d-6.397873!2d53.38352!3m4!1s0x48676d442cc85431:0xfc4f96c86d3d46be!8m2!3d53.38352!4d-6.397873