Meet the Head Imam & Islamic Theologian of the Islamic Centre Ireland
Shaykh Dr. Umar Al-Qadri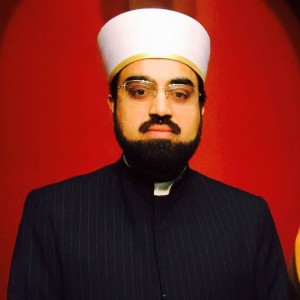 Shaykh Dr. Umar Al-Qadri is the Head-Imam of the Islamic Centre of Ireland.
Shaykh Dr. Umar Al-Qadri is a renowned Islamic scholar based in Ireland and one of the leading Muslim clerics in Europe that promote an inclusive and plural society, and is a firm believer in interfaith and intra faith relations. He is the Chair of the Irish Muslim Peace & Integration Council and Head-Imam of Islamic Centre of Ireland.
Shaykh Umar is as Islamic scholar that promotes a European Muslim identity and encourages Muslims living in Europe and Western governments to faclitate succesful integration.
Shaykh Umar is also very vocal against extremism and radicalisation and launched an "anti-extremism declaration" and "guidelines to prevent radicalisation among Muslim Youth in Ireland". He is alumni of the International Visitor Leadership Program of the US where he participated in a program entitled "Countering Violent Extremism"
Shaykh Umar was born in Pakistan moved with his parents to the Netherlands at the age of 2. At the age of 15 he traveled from the Netherlands to Pakistan for religious studies and obtained Masters in Islamic Studies and completed the traditional Dars-e-Nizami course.
He moved to Ireland in 2003 where he obtained degrees in Law and Intercultural and Interreligious studies from the University of Dublin.
Shaykh Umar frequently appears on the Irish media and is the only Muslim scholar to be interviewed by Gay Byrne in the renowned Irish religious program Meaning of Life. His book entitled "An exploration of the Islamic grounds for accepting diversity and religious pluralism" is scheduled to be published in 2019.
The Shaykh can be contacted for Islamic verdicts either by phone or by emailing him at : dr.qadri@icloud.com