Ameer of the Islamic Centre participates in Gulf Halal Conference in Kuwait
May 28, 2014
The Ameer of the Al-Mustafa Islamic Centre of Ireland, Shaykh Muhammad Umar Al-Qadri, attended and participated the 3rd Halal Gulf Conference organised by the Minsitry of Religious Affairs Kuwait.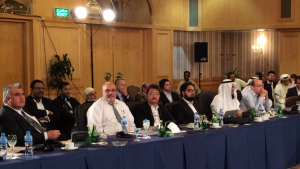 150 leading Muslim scholars, halal certification bodies representatives and food scientists were invited by the Kuwaiti Government for a Halal Lead Auditors Training and participate in a Conference on the Global Halal Market and its challenges. Shaykh Muhammad Umar Al-Qadri represented the Islamic Centre of Ireland in this Conference.
While the Shaykh was in Kuwait, leading Pakistani Cultural Society based in Kuwait (MQI Kuwait) hosted a dinner in honour of the Shaykh.