Eid in Croke Park 2023 !
June 20, 2023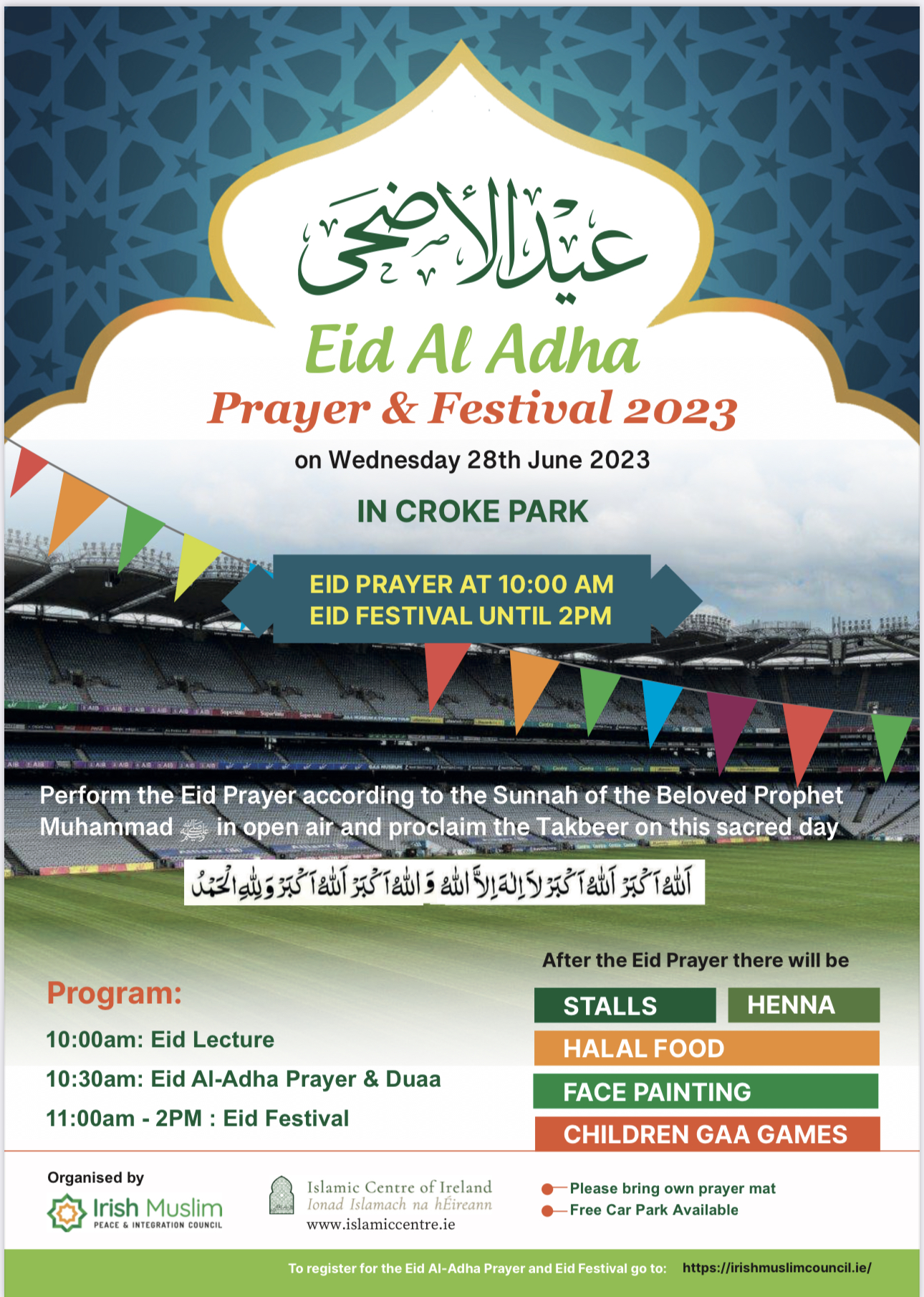 Dear Muslim Families in Ireland ,
Assalamu Alaikum wr wb !
Alhamdulillah the blessed month of Dhul Hijjah has started today, Monday 19th June 2023. These are 10 very sacred days in the Islamic calendar.
Millions of Muslims will be proclaiming Takbir and performing the Hajj this year in Makkah Mukarramah and the remaining Muslims will perform Eid Al Adha Prayer in their regions.
We invite you and your families and friends to come together this year for Eid Al-Adha Prayers and Eid Festival to Croke Park on the day fo Eid, Wednesday 28th June 2023.
After three succesful Eid Prayers in Croke Park this year we have decided to make it a purely religious, spiritual and community focused Eid event with Eid Prayers and Eid Festival.
The Eid Prayer will be performed on the pitch of the iconinc stadium of Croke Park. After the Eid Prayer which will be performed at 10:30AM, there will the Eid Festival with many stalls, henna, Halal food, face painting, children GAA games and much more !
We invite you and your families all to come together this year as One Ummah in Dublin and celebrate Eid together and make this a memorable Eid Al -Adha for you and your families !
Program:
10:00am: Eid Lecture
10:30am: Eid Al-Adha Prayer & Duaa
11:00am – 2PM : Eid Festival with Halal food and many stalls
We have added a small fees this year for participation because last year we had free registration but 400 fraudulent registrations were recorded by anti Muslim groups online. To prevent this we have had to confirm authentic registrations through payment.
To register for the Eid Al-Adha Prayer and Eid Festival go to:
https://www.eventbrite.com/e/662161261157