Genocide of innocent Palestinians by Israel
July 14, 2014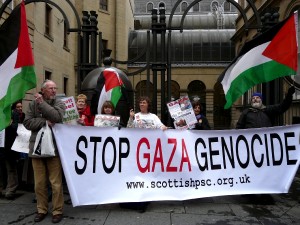 The genocide of innocent Palestinians continues. The world is watching it and doing nothing to stop it. The silence of 57 Muslim countries on the genocide of Palestinians is extremely deplorable behaviour.
Israeli government is openly committing war crimes. The killing machines of Israeli armed forces are trying to wipeout Palestinians from Palestine. The cruelty and the illegal occupation of Israeli government is the obstacle for peace in the Holy Land. There will not be peace in the region unless Israel let the Palestinians live in peace and freedom.
Almost 200 Palestinians mostly children and women have been killed and thousands have been wounded. Hundreds of houses and business have been destroyed. Israeli army once again have crippled the infrastructure of Gaza. How long this cruelty and oppression will continue? How long will the Irish Government remain silent on this ?
Islamic Centre of Ireland urges the Irish government to stop supporting the Israeli aggression and violence against Palestinians. The Israeli aggression against Gaza must stop immediately. Islamic Centre of Ireland also urges rocket throwers in Gaza to stop throwing rockets on Israel. Countering violence with violence is a failing strategy and will never be successful.
Islamic Centre of Ireland also urges all to donate generously for the Palestinian victims through Islamic Relief Ireland or Human Appeal. Both these charities are Irish based.
www.islamic-relief.ie
www.humanappeal.ie
The Shaykh of the Islamic Centre delivered the following speech this Friday to create awareness of the genocide and condemning the champions of Peace and the Arab countries that remain silent, while genocide of the Palestine continues.