Irish Muslim Cleric attends National Holocaust Memorial in Mansion House
February 3, 2015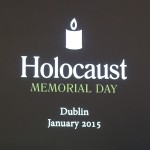 Shaykh Muhammad Umar Al-Qadri was invited by the Holocaust Education Trust Ireland to attend the memorial service on the 21st of January 2015 in Mansion House.
Shaykh Muhammad Umar Al-Qadri accepted the invitation and said that in the light of the Quran the unlawful killing of an innocent person is equal to the killing of whole mankind. Holocaust denial is tantamount to denying Muslim scripture. Just as Muslims believe in Hadith literature because of the solid reports (mutawatir) confirming events in seventh century Arabia, we are obliged to believe in the Holocaust by virtue of eyewitness accounts, extant documents, and the presence of Auschwitz and other sites.
During the memorial service the Muslims in Paris that during the world war saved hundreds of Jews from the Nazis were acknowledged. Among the attendees of the memorial service were holocaust survivors, President of Ireland Mr. Michael Higgins, State Ministers and other political & religious leaders.