Irish Muslim Cleric launches anti radicalisation website
January 26, 2015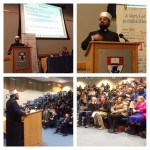 Shaykh Dr Muhammad Umar Al-Qadri, of the Al Mustafa Islamic Centre in Dublin, spoke about 'Islam, Jihad and Terrorism' to a packed auditorium in Waterford Institute of Technology (WIT) yesterday (22 Jan) in an event organised by the Religious Studies and Theology Research Group in the School of Humanities.
He also took the opportunity to launch a new anti-radicalisation website aimed at promoting the true values of Islam and encouraging people to report extremism.
The discussion was particularly timely in light of recent events in France. Dr Al-Qadri said terrorists who kill in the name of their religion are adhering to a radical interpretation of Islam and spreading this interpretation, particularly among young Muslims in western countries.
He went on to talk about the challenges radicalism poses for Islam and society generally and whether free speech has its limits in a multicultural, pluralistic world.
Dr Al-Qadri  has lived in Ireland for 14 years having previously lived in Pakistan and The Netherlands.
"In Ireland, the Muslim youth has been exposed to a number of radical and extreme preachers. Young Muslims are vulnerable to radicalisation due to their anger and frustration concerning dual standards of Western countries' policies in the Muslim world.
"Some members of the Irish Muslim youth have travelled to Iraq and Syria," he continues. "These youngsters were radicalised by extremist preachers in person and through social media."
The anti-radicalistion website
The jihad.info website will contain articles and lectures from Muslim scholars on the authentic teachings of Islam and will also give people a platform to report extremist activities.
Source :  http://www.wit.ie/news/humanities/islamic-leader-launches-anti-radicalisation-website-in-wit
Complete Lecture & Launch : 
Interviews to TV and Radio: 



Media Coverage of the Launch www.jihad.info :
http://utv.ie/News/2015/01/22/Muslim-leader-launches-anti-radicalisation-website-27186
http://www.thejournal.ie/jihad-irish-1898635-Jan2015/
http://www.irishtimes.com/news/social-affairs/social-media-and-preachers-radicalise-irish-muslims-scholar-1.2076105
http://www.independent.ie/irish-news/site-to-help-young-irish-muslims-avoid-radicalisation-30930431.html
http://5pillarsuk.com/2015/01/20/muslim-scholar-in-ireland-launches-anti-radicalisation-website/
http://www.belfasttelegraph.co.uk/news/local-national/republic-of-ireland/islamic-community-to-fight-against-radicalisation-of-irish-muslims-30932137.html