Meraj-Un-Nabi (saw) Commemoration
January 13, 2014
The Prophet Muhammad (saw) Ascending to heaven & Oath taking of Advisory Council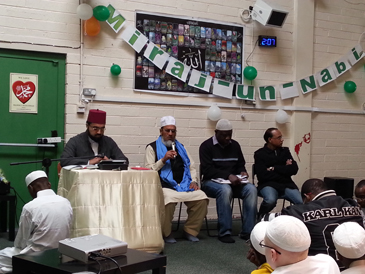 At Al-Mustafa IECC, we strongly put effort to increase the love of our Prophet Muhammad (saw) in the hearts of our children. According to our Hadeeth which says that the Holy Prophet (saw) said, teach your offspring 3 things (1) Love of the Holy Prophet (saw) (2) Love of my family Ahlul Bait (3) Recite Quran.
On the 9th of June, we held an event to commemorate the ascending trip of our beloved Prophet Muhammad (saw) to heaven, the Meraj-Un-Nabi (saw).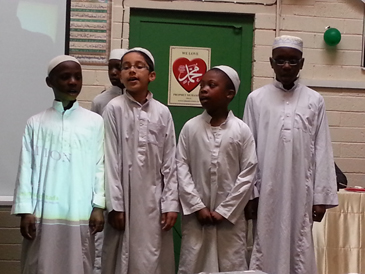 The event started with Sister Hafswa welcoming all Guests and mentioning the schedule of the program:
Lecture on Meraj un Nabi (saw)
Oath Taking Ceremony
Membership Certificates award distribution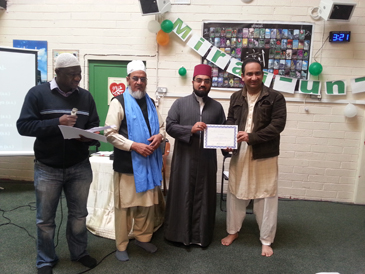 Then she welcomed Qari Mohammed Rafiq, Imam at Al-Mustafa IECC, to the stage for the recitation of the Holy Quran, after that the secretary Br Abdul Wasiu welcomed all guests on behalf of the Advisory Council of Al-Mustafa IECC. Then the students of Al-Mustafa Islamic School performed Nasheed. This was followed by a short lecture by Sidi Abdul Qadri,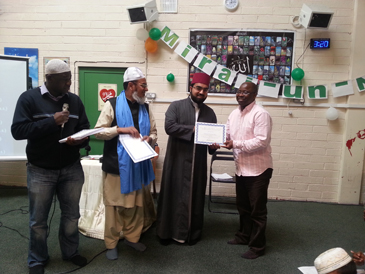 After the lecture by Sidi Abdul Qadri the oath taking of the recently established Advisory Council (Majlis Shura) took place. The oath was given in the traditional Islamic way as oaths were taken in the time of our Beloved Prophet Muhammad (Peace and Blessings be upon Him). The oath was given,on the hands of the Ameer of Al-Mustafa IECC,by the following members of the Majlis Shuraa: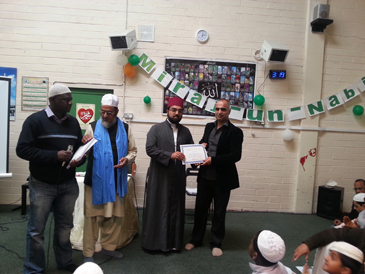 Br Abdul Wasiu, Br Sohail Ahmed, Br Abdul Qadri, Br Ishaq, Br Siraj Salawu, Br Nasir Nawab, Br Ade, Br Rufi Ahmed, Br Kashif, Sister Hafswa Omar, Sister Umm Ahmad, Sister Bashirat and Sister Tawakkalt.
After the oath taking our Ameer Shaykh Dr. Umar Al-Qadri gave a very uplifting lecture on Meraj-un-Nabi (SAW). After the lecture new members of AL-Mustafa IECC were presented by the Ameer their membership certificates.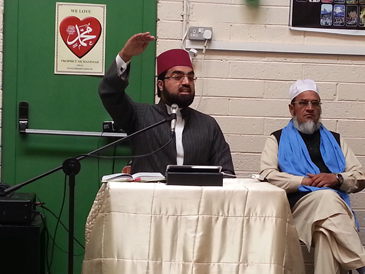 The event was concluded by a beautiful duaa as always by our Ameer.
We had a fantastic turnout and very good feedback from parents and guests, and I hope to see more guests to come and support our children, as they are involved in organizing and making the day to be successful and enjoyable for all.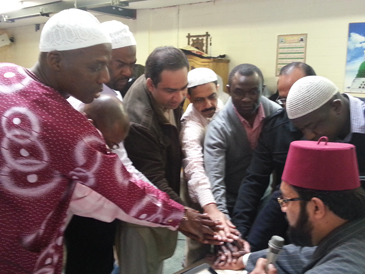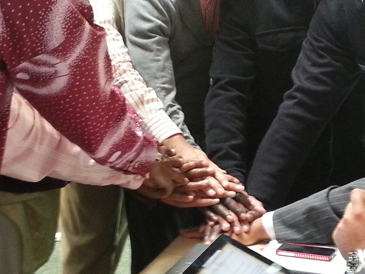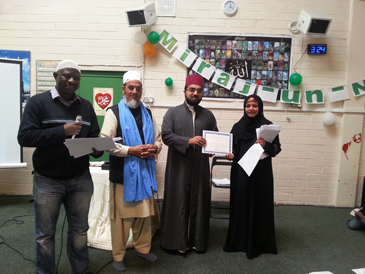 Report by Sister Hafswa Omar (Events Organisor Al-Mustafa IECC)