Shaykh Umar Al-Qadri speaks in the House of Commons & meets HRH Prince of Wales regarding persecution of faith communities
November 27, 2016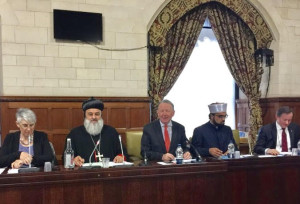 On Thursday 24th November 2016, Aid to the Church in Need launched the "Religious Freedom in the World" report in the House of Commons. The report describes the impact of the persecution of faith communities and specially the impact of Islamist "hyper-extremism" and how it has unleashed a wave of violence and exodus, prompting record-breaking numbers of refugees and threatening the survival of Christians, Muslims, Yazidis and other minorities in Iraq, Syria and other parts of the world.
The report also highlights the genocide of the Rohingya Muslims by Buddhist extremists.
Shaykh Dr. Umar Al-Qadri (Chair of the Irish Muslim Peace & Integration Council and Head Imam of the Islamic Centre Ireland) delivered a keynote along with the Patriarch of the Syrian Orthodox Church, HH Ignatius Aphrem II and Dr. Sarah Bernstein, Director of the Jerusalem Centre for Jewish-Christian relations.
After the launch Shaykh Al-Qadri and other senior figures from ACN met with HRH Prince Charles, Prince of Wales in his residence. In the one hour-long meeting with HRH Prince of Wales the persecution of religious communities and religious motivated violence was discussed.
—————
Key points from the lecture by Shaykh Al-Qadri :
Reading this report will be very emotional and heart-breaking for all its readers but particularly for Muslims because the report highlights the emergence of a new phenomenon known as Islamist extremism. Violence perpetrated by extremists claiming to act in the name of Islam. Extremists that have hijacked the religion of Islam.
The report also highlights violence committed by extremists claiming to act in the name of Buddhism in Myanmar
History is full of examples of extremists in every religious community that have committed violence in the name of their religion
The reality is no religion wether Christianity, Judaism, Islam, Buddhism, Hinduism teaches violence and extremism. All religions teach respect, tolerance and acceptance of the other.
Persecution of Christians in Muslim Majority Countries is not inspired and motivated by Religious Scripture but is a new phenomenon which must be challenged.
Misinterpretation of Islamic teachings and rise of the very radical ideology "Wahhabism" has contributed significantly to such violence.
Quran guarantees religious freedom to all mankind.
In 628 AD, a delegation from St. Catherine's Monastery came to Prophet Muhammad and requested his protection. He granted them protection and provided them with a letter, which is called the "Charter of Privileges." It consisted of several clauses covering all aspects of human rights, including such topics as the protection of Christians, freedom of worship and movement, freedom to appoint their own judges and to own and maintain their property, exemption from military service, and the right to protection in war.
Throughout centuries 1200 years in most part of the Muslim world the "Charter of Priveleges" was observed.
From Abbasid time, Christian scholars were advisors of Umayyad and Abbasid caliphs and used their money they got as courtiers to publish theological tracts.
 St John of Damascus who was a Patriarch of the Syrian Orthodox Church. He was advisor and lived at the Umayyad court and published a theological tract in which he discussed Islam as a Christian heresy.
Persecution of Christians by so-called Muslims is worrying and must be challenged. In January 2016, 300 Muslim scholars from around the world issued the "Marrakech Declaration" in which they condemned religious persecution of non-Muslims in Muslim majority countries.
The majority must unite against minority extremists and radicals.
Other factors that contribute to religious motivated violence (political, social, economic) must be addressed honestly also.
The Religious Freedom in the World report can be read here:
http://religion-freedom-report.org.uk/full-report
MEDIA LINKS :
http://www.anglicannews.org/news/2016/11/faith-communities-unite-on-red-wednesday-for-victims-of-religious-persecution.aspx
http://theorthodoxchurch.info/blog/news/launch-of-the-report-on-freedom-of-religion-british-parliament/
http://www.catholicherald.co.uk/news/2016/11/24/houses-of-parliament-lit-up-in-red-for-persecuted-christians/
http://www.indcatholicnews.com/news.php?viewStory=31417
http://www.catholicherald.co.uk/news/2016/11/24/houses-of-parliament-lit-up-in-red-for-persecuted-christians/
http://raybarnett.tv/tag/sheikh-dr-umar-al-qadri/
http://www.trunews.com/article/sheikh-criticizes-western-government-for-being-too-soft
https://friendsinthewest.com/sheikh-blames-saudi-arabia-for-global-rise-of-islamist-terrorism/