Shaykh Umar Al-Qadri meets the President of Ireland H.E. Michael D. Higgins
January 16, 2014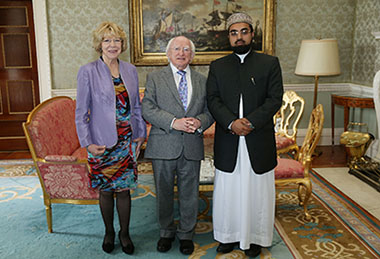 On the 2nd July 2013 Shaykh Dr. Umar Al-Qadri was invited to Áras an Uachtaráin (Presidents House) along with other key figures of various organizations that have contributed towards Peace, Unity and Integration in Ireland. Shaykh Umar was the only person representing an Islamic Cultural Centre.
On this occasion  The President His Excellency Mr. Michael Higgins gave advanced greetings of the blessed month of Ramadan. The First Lady Sabina Higgins also forwarded the greetings of the blessed month of Ramadan which is due to start on 9th July this year.
The President was so kind that he presented the Shaykh with a gift for all the students in Al-Mustafa Islamic Educational & Cultural Centre for the start of Ramadan.
On behalf of the Muslim community in Ireland we would like to thank Mr President and his wife for their kindness and pray for their success in serving the Irish nation.